Integration Summary
Imports Sales Invoices from Quickbooks to Orders in Mintsoft
Imports Purchase Orders from Quickbooks to ASNS in Mintsoft
Exports Orders (manually and automatically) in Mintsoft to create Sales Invoices in Quickbooks
Option to send contact name as the sales channel name (e.g Amazon / Ebay)
Settings Changes
If you are a 3PL admin user setting this up on behalf of a client - please navigate to Clients > Overview > (find client) > Actions > Edit
If you are a Multi Channel account user please navigate to Settings > Client Settings
Then on the General tab scroll to the bottom and change to Quickbooks:

Setup Connection
Navigate to Connect > Accounting > Quickbooks
Please enter a delay of 15 choose the type of the Quickbooks connection to Accounting and then select the relevant options for using the connection.
Order Sync = Means Invoices will import from Quickbooks as orders into Mintsoft.
We would recommend setting a value in the days to go back - e.g. if you want to import invoices for the last 7 days then you would enter -7.

Once the account is created - hit the connect button:



Then login to Quick Books: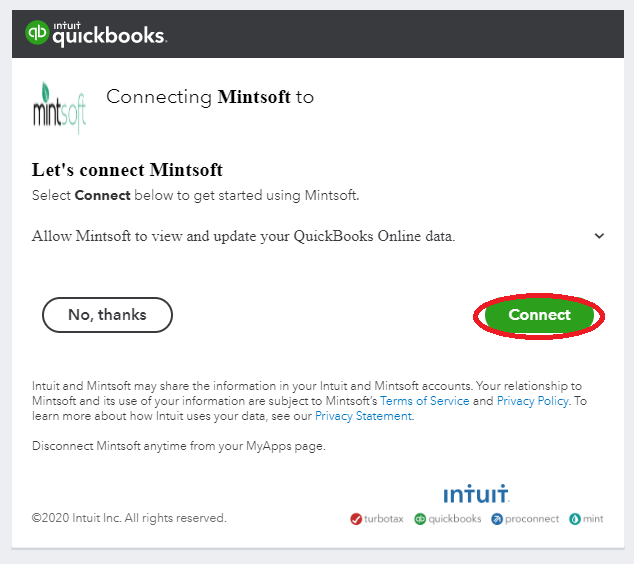 Then you will receive a success message advising the API key has been successfully updated:

Set Default Income Account
Once the connection has successfully authorised - edit the connection in Mintsoft and check the default income account is correct for your sales (sales will get posted here if we do not find an item code already setup)



Then hit save
Exporting Orders to Quickbooks
From the orders overview screen tick the orders you want to export and then from the bulk actions drop down select "Export to Accounting Integration"