Integration Summary:
Imports orders
Option for stock synchronization
Updates tracking numbers
Updates despatched status
Option for new product creation
Imports product pricing for sales orders
Channel (module) mapping
Setup:
Guide to obtaining an API Key to setup PrestaShop integration with Mintsoft:
http://doc.prestashop.com/display/PS16/Webservice+Parameters
The following resource permissions are required as a minimum:
orders
products
combinations
addresses
countries
states
carriers
product_option_values
If you wish to use stock sync please grant full access to all permissions to ensure functionality.

Account Setup:
Name
Details
Example
URL
The Url of the website
htttps://www.examplewebsite.co.uk
ImportStatues
The statuses orders need to be in for them to imported this an be one status or multiple

e.g.

4

Multi statuses can be used separated with pipes

e.g. 4|5|6

ProcessingStatus
Status in prestashop the order should be moved to when the order is imported
5
DespatchStatus
Status in prestashop the order should be moved to when the order id despatched
4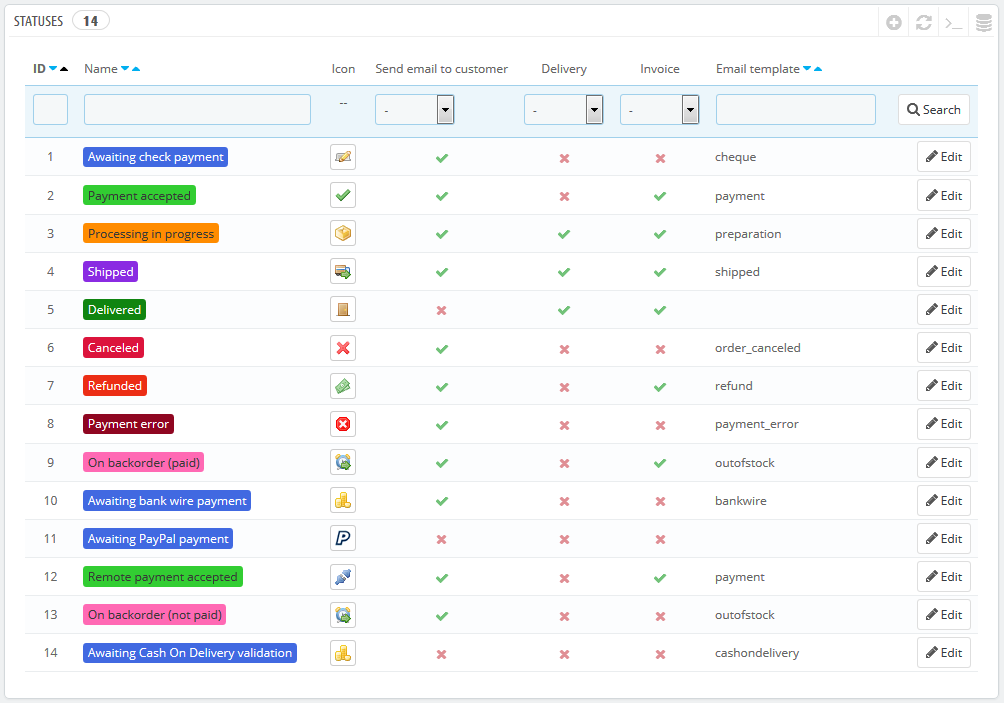 Troubleshooting
It's possible to check the API in the browser e.g.
https://www.storeurl.com/api/orders/?filter[current_state]=[ORDERSTATUSID]&output_format=JSON&ws_key=[APIKEY]
Due to the fact PrestaShop is Open Source software it is important to note that the configuration of PrestaShop could affect or reduce the supported functionality of the integration.