Volumetric storage charging is the most accurate and automated method to charge your clients for storage on the system.

To set this up, you will need to ensure each product for the client has volumes stored against it (this is individual unit level rather than the product master carton dimensions).

If setting for the first time or doing for a large volume of products, its best to upload in bulk using product upload file (this can update dimensions as well as create for first time).
It is now possible to bulk upload / update volumetric cubic metre over-ride over individual product dimensions using product upload sheet.


Please navigate to Products > Extras > Upload Products

You can download the latest template there. 

You can also do this manually by going to products > overview > add new product and then make sure these fields are populated:

You can also set a volumetric over-ride if the packaged cubed dimensions are bigger than individual product dimensions here:

Once you have set the product dimensions up you just need to adjust the client settings.

You can either do this when you first set the client up or edit the settings after client has been setup by going to Clients > Overview search for client and click edit.

Then click the edit client box and click on the storage costs tab:

There you can edit the cubic metre rate (this is related to the frequency - so my example below will charge £0.50 per cubic metre per day)

Please also make sure you select the option to automatically calculate storage costs according to frequency: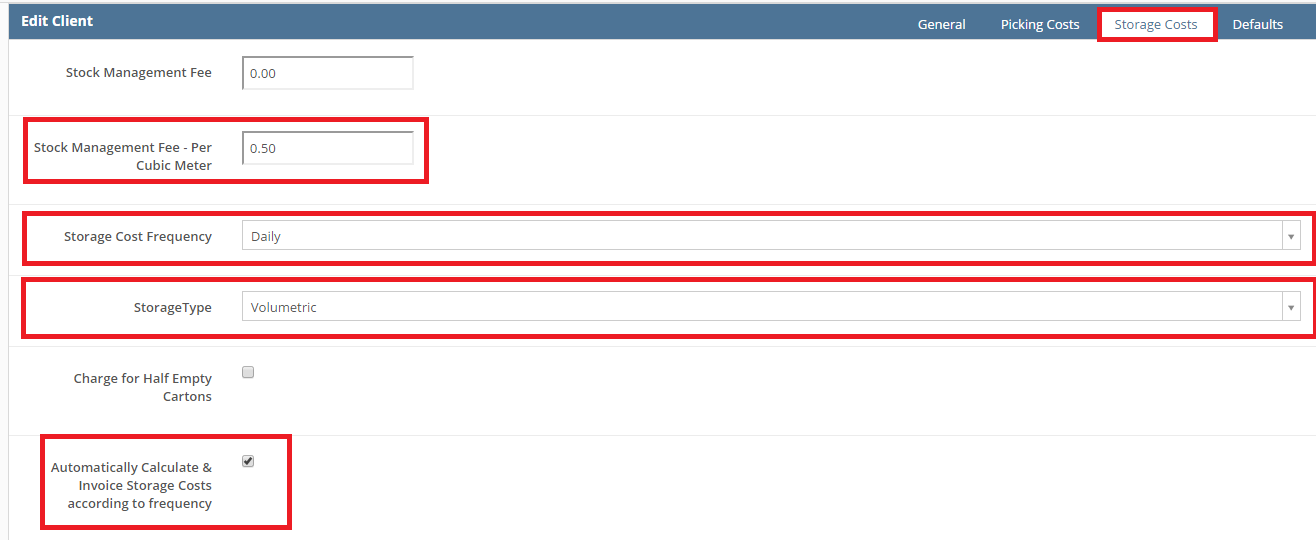 then just save your changes and the system will automatically add the storage charges to unconfirmed invoice items location in Accounting > Overview for that client
 
Missing Product Volumes!
If you are worried about not charging for products with no volumes stored - you can setup an automatic alert to tell you!
Please navigate to Reports > Scheduled Reports and setup a scheduled report for Productswithnovolume: