Integration Summary:

UK & Worldwide Shipping
SMS & Email Alerts
Enhanced Compensation Option
Hazardous Goods Option
Department IDS / Contract Number:
Sometimes you might need to have different contract number or department IDs if you are using it across multiple warehouses or locations. Parcelforce customer solutions will be able to advise what values you'll need to supply in those fields on the connector

Credentials
To connect to parcelforce, you must have an expresslink parcelforce account to use with the integration.

Your parcelforce account manager must apply for this by emailing customer.solutions@parcelforce.co.uk also copy in support@mintsoft.co.uk

They will email mintsoft with the test login first, where a test shipment must be created, printed on your production printer and then posted them for approval.

Once the test shipment has been approved, they will then send live account details.

Shipment Notification settings:
Parcelforce has a highly dynamic selection of Notifications that can be setup.
These can be added to your shipments by providing a ; seperated listed into the service code ExtraCode1 e.g. EMAIL;SMSDAYOFDESPATCH
Appendix A - From expresslink v14.0.2 - Latest as of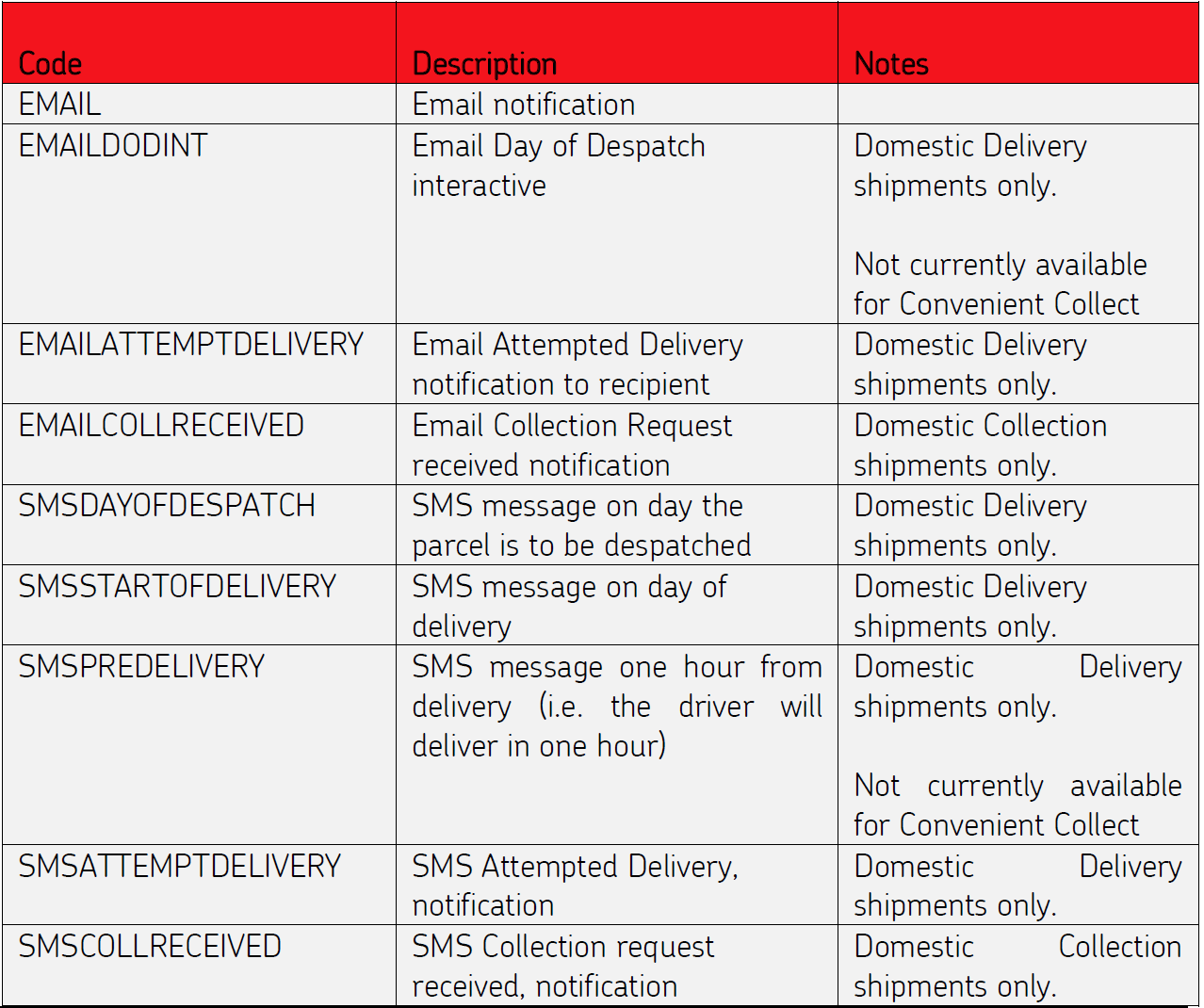 An Example of all types should be this:extraCode1
EMAIL;EMAILATTEMPTDELIVERY;SMSDAYOFDESPATCH;SMSSTARTOFDELIVERY;SMSPREDELIVERY;SMSATTEMPTDELIVERY
Enhanced Compensation setting:
Can be chosen for a service by using one of the codes below in ExtraCode7.
| | |
| --- | --- |
| Code | Amount(GBP) |
| 0 | 0 |
| 1 | 500 |
| 2 | 1000 |
| 3 | 1500 |
| 4 | 2000 |
| 5 | 2500 |
Hazardous Goods setting:
Services can be setup to ship hazardous goods. We would just been the UN code and the description of what is being sent.