Weekend Settings

If you want to ship and manfiest at the weekends and have royal mail collections at the weekend, then you can enable ShipOnSatruday and/or ShipOnSunday.

Go Settings > CustomerAccountSettings then set ShipOnSaturday and or ShipOnSunday to active.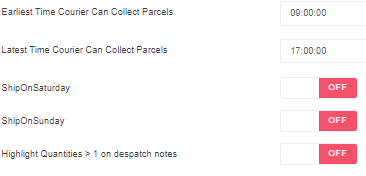 Without this enabled, any shipments you do would be on Monday's manifest.
Holiday Settings
The system has a holiday setting feature which enables you to enter any holiday periods where couriers will not be collecting from you or you will not be despatching orders.
Navigate to Settings > Customer Account Settings > Holidays:

With a holiday date setting added & you try to create a courier shipment on that day - the system will automatically attempt to create a shipment on your next working day.

Add a date and an optional comment that you want to communicate as a non-working day for courier collections & despatch:


So now if a courier shipment is attempted to be created on the 28th the system will communicate to the relevant courier that the collection date will be the next working day - in this example 29th March
Bank Holiday Courier Requests
Many couriers do not allow you to create API shipments with a collection date of a bank holiday - so you need to setup holiday days if you wish to create shipments during these periods.
The holiday settings will also currently inform NOTHS & Amazon only of the holiday period and adjust expected despatch dates accordingly so late despatches do not punish despatch metrics.